Never know where curiosity takes you
Take a look how I go through life gaining knowledge and experience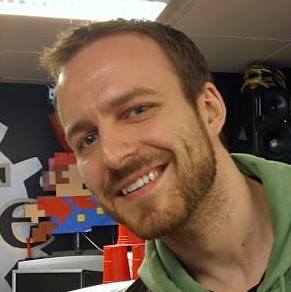 My name is Adam Surák, currently living Paris, France. Here you can find some information about my way through the world of information and communication technologies. As I was always driven by curiosity I have came across the realm of programming but just one personal computer was not enough to satisfy my curiosity so I started digging into computer networks and systems. Even after years of self trial-error learning, academic education and CCNP academy passing I was not over. While this gave me a good understanding how things work in big picture being curious person I was interested why they work like that. The fusion of knowing how things work and why led me to research where I have found myself successful. And because I believe that only when you understand things you are able to teach them, you can encounter me spreading my knowledge.
If you want to contact me, I think this comprehensive list of social networks together with my email adam@surak.eu will come in handy.
Currently
Building realiable teams and making myself replacable
Director of Infrastructure

2016 - Today

Building reliable teams and making myself replaceable

My work consists of building and scaling teams around SRE, monitoring, corporate IT and security. On the technical side I guarantee the strategic development of our worldwide infrastructure.

In 2017, I successfully lead the company through its first SOC2 Type 1 and Type 2 audits.

Company's website: www.algolia.com
DevOps Engineer

2014 - 2016

Scaling and maintaining the infrastructure and application stack of Algolia (Paris, France).

Scaled Algolia worldwide bare-metal infrastructure from servers in 2 regions to 16 regions, processing over 4B API calls a day.

Company's website: www.algolia.com
Founder and developer

2011 - 2013

Internet project Pikr focused on providing micro-jobs to people all around Czech Republic. The project started in late 2011 and in 2012 was among TOP10 projects in competition Nápad roku (Idea of the Year). During the months we have received a very good response to our project mainly from the user-experience point of view. The project also received very good visibility in media.

The whole application was written using our latest knowledge about software development and user-centered approach. I have programmed complete back-end in PHP using Nette Framework with MySQL database and front-end dynamics using JQuery. This was our first project also integrating Facebook login. The system was programmed in a way to be scalable in the future with various design aspects in mind and during almost two years required very minimal maintenance regarding bug fixing.

With this project I was invited as a speaker for StartupCamp Ostrava. The whole team participated in Jetpack Weekend event where we won for the best realization of idea.

Project website: www.pikr.cz

PHP/MySQL Developer

2009 - 2012

Programming, web-design and corporate identity studio Creontech founded in 2008 with two developers and one designer. During the years we have created various websites and web applications for our customers including e-commerce websites and reservation systems.

I have programmed all the back-end logic in PHP with MySQL or SQLite for storage and front-end dynamics using JQuery.

Studio website: www.creontech.cz

PHP Developer

2007 - 2009

High school free-time developed web-based game Project-Creon. Development started in early 2007 and continued till 2009. The team consisted of three programmers, designer and two storytellers and balancers. The game brought for it's time a shift from turn-based to real-time playing.

Later on the game served as a sandbox for testing new technologies and programming approaches like safe login without SSL, double account detection and defenses against various types of attacks from SQL injection to XSS and DoS.

The game was programmed in PHP using MySQL database and JavaScript for client-side dynamics.
Heterogenous networks

2013 - 2014

The project is done for Intel Corporation, Santa Clara, CA, USA. Focus of the project is using of available heterogenous radio resources to provide better service for a user and lower cost of operation for the operator.

LTE-assisted WiFi Direct

2013

In a project of practical demonstration of solution proposed in paper 3GPP LTE Traffic Offloading onto WiFi Direct (presented at IEEE WCNC conference in China). I was part of the team developing an Android application and Android system modifications capable of demonstrating the proposed solution. We have also developed a solution that can other mobile wireless networks benefit from. The final solution is part of 3GPP Release 12.

This project was done in cooperation with Intel Corporation, Santa Clara, CA, USA.

The project was successfully presented during Intel Expo at Intel Corporation, Hillsboro, OR, USA, during the DIGILE IoT Sprint 2 review meeting in Tampere, Finland and at Mobile World Congress (MWC) 2014 in Barcelona, Spain.

Vehicle networks

2013

Research focused on usage of adaptive video codec in vehicle networks based on 802.11p standard. I was engineer in this project responsible for the actual 802.11p multi-hop wireless network and performance evaluation of this solution.

The research resulted in a journal paper and deployment of the technology in St. Petersburg, Russia.
Teaching Assistant

2013 - 2014

At Tampere University of Technology, Tampere, Finland I work as a laboratory assistant for both basic and advanced networking courses from 2013. Also I am a lecturer in the advanced Peer-to-Peer Networks course.
In a team of two we have redesigned all the computer networking laboratories.
We have automated certain laboratory tasks using PXE and Puppet to allow more dynamic scenarios for students.

Master Degree

2011 - 2013

Graduated with Distinctions (First Class honors) in 2013 at VŠB - Technical University of Ostrava, Ostrava, Czech Republic.
Master Thesis focused on Hyper-V 3.0 and Microsoft Private Cloud.

Erasmus Exchange

2012 - 2013

1 year study at Tampere University of Technology, Tampere, Finland. Already after two months of my stay in Finland I was offered a job as a research assistant, finished my degree in Czech Republic and stayed at TUT as a Research and Teaching assistant.

Bachelor Degree

2008 - 2011

Graduated with Distinctions (First Class honors) in 2011 at VŠB - Technical University of Ostrava, Ostrava, Czech Republic.
Bachelor Thesis consisted of information system used for storage and retrieval of blueprints. The system was written using PHP, MySQL and JavaScript.
Public talks
Own your reliability

O'Reilly Velocity Amsterdam - November 2016

Who do you trust? What do you control? What are your dependencies? Reliability in the Internet is an adrenaline adventure but we all want a good night sleep and working service. Let's take a closer look at some of the reliability nightmares and how they could be dealt with.
Slides

Continuous Security

Paris Ruby Meetup - October 2016

Our path of continuous security at Algolia and summary of our 1 year experience running public bug bounty program.

Own your reliability

Leaseweb Techsummit 2016 - June 2016

Who do you trust? What do you control? What are your dependencies? Reliability in the Internet is an adrenaline adventure but we all want a good night sleep and working service. Let's take a closer look at some of the reliability nightmares and how they could be dealt with.
Video

Latency: from a dream to a nightmare in 100ms

Performance User Group Paris - April 2016

"It's the network!" is a reflex of every software engineer, and they are very often right. The Internet is much more alive than we think. But when our applications are online how can we work with unpredictable latency? Can we optimise it?
Video
Contact